We have over 700 practice calculation questions covering virtually all specification points. Each question is auto-marked and provides students with instant feedback and worked solutions if they get it wrong. In some cases it will even tell students where they went wrong and what they should have done to gain full marks.
Example question
Example solution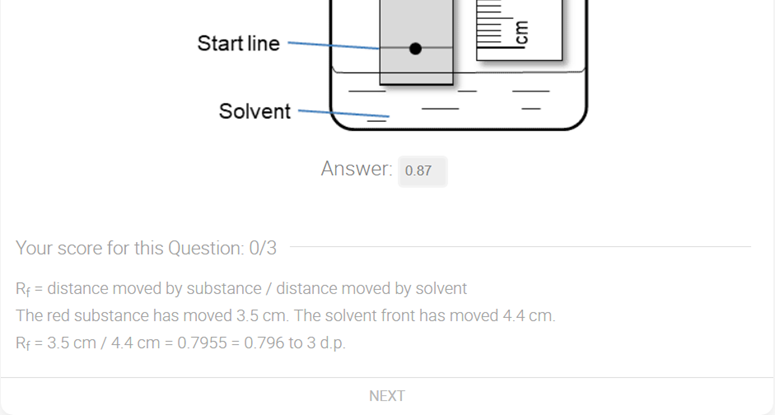 On top of this, our clever software stores information from the calculation questions and this information is stored in students reports. This means that with the click of a button, either a teacher or that student can set themselves targeted revision based on that students weakest areas. So rather than wondering where to start with regards to revising, our reporting systems let you know exactly where to start and with which specific pieces of key knowledge.
As with all our features, there are videos to that support the learning of every topic if a student is struggling to understand the content.
Yearly fee : £0.38 /student
This price includes:
Over 700 automarked calculation questions covering all the main calculations from biology, Chemistry and Physics. 
The tracking and reporting of data enabling you to collect reliable, robust data as to the strengths and areas for development of your department, class or student.
Online support videos to help students understanding of the various topics and calculations. 
Quick Info
Over 700 auto-marked calculation questions
Instant feedback / worked solution provided if a student gets that question wrong.
Videos can automatically be assigned in order to support students if they are struggling to understand something (inc. in this package)
Reports that allow for tracking of students progress